SECO-RANGEFINDER-GEVK: SiPM Direct Time of Flight (dToF) LiDAR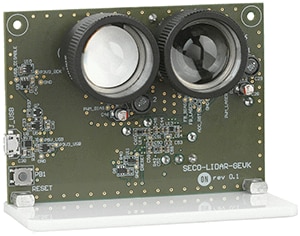 The Direct Time of Flight (dToF) SiPM LiDAR Platform is a single point range finder development kit for cost-optimized industrial and commercial applications. The kit is based on the latest NIR SiPM from ON Semiconductor (RB series) and integrates all the essential sub-systems for the application involving laser and reference circuit (Tx), receiving circuit (Rx), power management systems, and core FPGA and UART communication. The kit is FDA certified and includes a multifunctional GUI enabling a complete evaluation of the range-finding performance as well as the adjustment of system variables such as the buffer number of pulses or the bias voltage for the SiPM-RB photomultiplier.
特性和应用
特性

Direct ToF operation for single point applications
> 0.11 m to 23 m detectable range
Out of the box operation with user-friendly GUI with adjustable system variables
Optimized system cost
Time to Digital Conversion (TDC)

FPGA based (ice3)
~ 85ps bin width
Automatic TDC calibration (FPGA reference clock)

Power supply

Different supply options

USB = 5V
PMOD connector = 3.3V

Laser and optics

RB-Series SiPM detector
905nm laser diode transmitter
650-1050nm coated BK7 Plano-convex lenses

maximize distance measurement

905±5nm band pass optical filter (FWHM: 30±5nm) for RX

highest sensitivity in selected spectrum

Regulations

Complies - laser safety standard IEC / EN 60825-1:2014 and 21 CFR 1040.10 and 1040.11 except for deviations pursuant to Laser Notice No. 56
FDA Certified

Software

Software adjustable settings for variety of industrial and IoT applications
FPGA-based Time-to-Digital Convertor (TDC), readout, communication interface and control of two regulated bias supplies

应用

Indoor Navigation and range-finding (up to 23 m)
Collision detection
3D Mapping
评估/开发工具信息
产品
状况
Compliance
简短说明
所用产品
行动
SECO-RANGEFINDER-GEVK
Active
SiPM Direct Time of Flight (dToF) LiDAR
BAS16HT1G , BAT54T1G ,
BC817-40WT1G , BC856BWT1G ,
BSS138LT1G , EMI2121MTTAG ,
FPF2110 , FQT13N06LTF ,
LM2903DMR2G , MBR120LSFT1G ,
MICRORB-10010-MLP-TR , MMSD701T1G ,
NBA3N012CSNT1G , NCP161ASN330T1G ,
NCP170BXV120T2G , NCP170BXV250T2G ,
NCP300LSN27T1G , NCP81074ADR2G ,
NCV308SN330T1G , NSVF4015SG4T1G
Your request has been submitted for approval.
Please allow 2-5 business days for a response.
You will receive an email when your request is approved.
Request for this document already exists and is waiting for approval.