CAT8900: Precision Analog Voltage Reference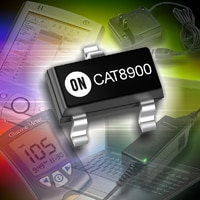 The CAT8900 is a high precision voltage reference providing very accurate voltage regulation with low supply current consumption.

CAT8900 is ideal for use in battery powered systems where operating current needs to be minimized and there can be a great variation in supply voltages. It will source or sink up to 10 mA of load current, and can for most applications, forgo the use of an output bypass capacitor. The device is supplied in a space saving three terminal SOT-23 package.
特性

Reference Voltages:
1.024 V, 1.200 V, 1.250 V, 1.800 V,
2.048 V, 2.500 V, 2.600 V,
3.000 V, 3.300 V

Low Supply Current: 450 nA (Typical)

Initial Accuracy:
Class B: 1.0 mV
Class C: 2.5 mV
Class D: 5.0 mV

Drift Performance: 20 ppm/°C

This Device is Pb Free, Halogen Free/BFR Free, and RoHS Compliant
应用
Battery Powered Systems
Power Supplies
A/D and D/A Converters
Precision Regulator Systems
Portable Medical Equipment
外形
CAT8900B102TBGT3
Obsolete
CAT8900
SOT-23-3
527AG
1
260
Tape and Reel
3000
CAT8900B120TBGT3
Obsolete
CAT8900
SOT-23-3
527AG
1
260
Tape and Reel
3000
CAT8900B125TBGT3
Obsolete
CAT8900
SOT-23-3
527AG
1
260
Tape and Reel
3000
CAT8900B180TBGT3
Obsolete
CAT8900
SOT-23-3
527AG
1
260
Tape and Reel
3000
CAT8900B204TBGT3
Obsolete
CAT8900
SOT-23-3
527AG
1
260
Tape and Reel
3000
CAT8900B250TBGT3
Obsolete
CAT8900
SOT-23-3
527AG
1
260
Tape and Reel
3000
CAT8900B260TBGT3
Obsolete
CAT8900
SOT-23-3
527AG
1
260
Tape and Reel
3000
CAT8900B300TBGT3
Obsolete
CAT8900
SOT-23-3
527AG
1
260
Tape and Reel
3000
CAT8900B330TBGT3
Obsolete
CAT8900
SOT-23-3
527AG
1
260
Tape and Reel
3000
CAT8900C102TBGT3
Obsolete
CAT8900
SOT-23-3
527AG
1
260
Tape and Reel
3000
CAT8900C120TBGT3
Obsolete
CAT8900
SOT-23-3
527AG
1
260
Tape and Reel
3000
CAT8900C125TBGT3
Obsolete
CAT8900
SOT-23-3
527AG
1
260
Tape and Reel
3000
CAT8900C180TBGT3
Obsolete
CAT8900
SOT-23-3
527AG
1
260
Tape and Reel
3000
CAT8900C204TBGT3
Obsolete
CAT8900
SOT-23-3
527AG
1
260
Tape and Reel
3000
CAT8900C250TBGT3
Obsolete
CAT8900
SOT-23-3
527AG
1
260
Tape and Reel
3000
CAT8900C260TBGT3
Obsolete
CAT8900
SOT-23-3
527AG
1
260
Tape and Reel
3000
CAT8900C300TBGT3
Obsolete
CAT8900
SOT-23-3
527AG
1
260
Tape and Reel
3000
CAT8900C330TBGT3
Obsolete
CAT8900
SOT-23-3
527AG
1
260
Tape and Reel
3000
CAT8900D102TBGT3
Obsolete
CAT8900
SOT-23-3
527AG
1
260
Tape and Reel
3000
CAT8900D120TBGT3
Obsolete
CAT8900
SOT-23-3
527AG
1
260
Tape and Reel
3000
CAT8900D125TBGT3
Obsolete
CAT8900
SOT-23-3
527AG
1
260
Tape and Reel
3000
CAT8900D180TBGT3
Obsolete
CAT8900
SOT-23-3
527AG
1
260
Tape and Reel
3000
CAT8900D204TBGT3
Obsolete
CAT8900
SOT-23-3
527AG
1
260
Tape and Reel
3000
CAT8900D250TBGT3
Obsolete
CAT8900
SOT-23-3
527AG
1
260
Tape and Reel
3000
CAT8900D260TBGT3
Obsolete
CAT8900
SOT-23-3
527AG
1
260
Tape and Reel
3000
CAT8900D300TBGT3
Obsolete
CAT8900
SOT-23-3
527AG
1
260
Tape and Reel
3000
CAT8900D330TBGT3
Obsolete
CAT8900
SOT-23-3
527AG
1
260
Tape and Reel
3000
| | | |
| --- | --- | --- |
| 市场订货至交货的时间(周) | : | Contact Factory |
| | | |
| --- | --- | --- |
| 市场订货至交货的时间(周) | : | Contact Factory |
| | | |
| --- | --- | --- |
| 市场订货至交货的时间(周) | : | Contact Factory |
| | | |
| --- | --- | --- |
| 市场订货至交货的时间(周) | : | Contact Factory |
| | | |
| --- | --- | --- |
| 市场订货至交货的时间(周) | : | Contact Factory |
| | | |
| --- | --- | --- |
| 市场订货至交货的时间(周) | : | Contact Factory |
| | | |
| --- | --- | --- |
| 市场订货至交货的时间(周) | : | Contact Factory |
| | | |
| --- | --- | --- |
| 市场订货至交货的时间(周) | : | Contact Factory |
| | | |
| --- | --- | --- |
| 市场订货至交货的时间(周) | : | Contact Factory |
| | | |
| --- | --- | --- |
| 市场订货至交货的时间(周) | : | Contact Factory |
| | | |
| --- | --- | --- |
| 市场订货至交货的时间(周) | : | Contact Factory |
| | | |
| --- | --- | --- |
| 市场订货至交货的时间(周) | : | Contact Factory |
| | | |
| --- | --- | --- |
| 市场订货至交货的时间(周) | : | Contact Factory |
| | | |
| --- | --- | --- |
| 市场订货至交货的时间(周) | : | Contact Factory |
| | | |
| --- | --- | --- |
| 市场订货至交货的时间(周) | : | Contact Factory |
| | | |
| --- | --- | --- |
| 市场订货至交货的时间(周) | : | Contact Factory |
| | | |
| --- | --- | --- |
| 市场订货至交货的时间(周) | : | Contact Factory |
| | | |
| --- | --- | --- |
| 市场订货至交货的时间(周) | : | Contact Factory |
| | | |
| --- | --- | --- |
| 市场订货至交货的时间(周) | : | Contact Factory |
| | | |
| --- | --- | --- |
| 市场订货至交货的时间(周) | : | Contact Factory |
| | | |
| --- | --- | --- |
| 市场订货至交货的时间(周) | : | Contact Factory |
| | | |
| --- | --- | --- |
| 市场订货至交货的时间(周) | : | Contact Factory |
| PandS (2020-09-14 00:00) | : | >1K |
| | | |
| --- | --- | --- |
| 市场订货至交货的时间(周) | : | Contact Factory |
| PandS (2020-09-14 00:00) | : | >1K |
| | | |
| --- | --- | --- |
| 市场订货至交货的时间(周) | : | Contact Factory |