Selected ADAS, Viewing & Autonomous Vehicles Solution
返回到 ADAS, Viewing & Autonomous Vehicles solution
LIDAR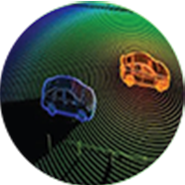 LiDAR is a critical element in the fusion of sensor modalities required to enable L3-L5 autonomous driving. LiDAR provides high-resolution depth data, enabling object identification capabilities that are not possible with radar or cameras alone. ON Semiconductor is at the forefront of sensor technology and other system elements that enable the next generation of LiDAR systems. Our core sensor technology is sensitive to individual photons while also being able to operate in direct ambient sunlight conditions. Silicon Photomultipliers (SiPMs) are detectors built on Single Photon Avalanche Diodes (SPADs) to allow for systems to range to the most distant objects, even when they are minimally reflective. SPAD arrays are time-of-flight image sensors that allow for high-resolution 4D imaging, capturing depth data and intensity simultaneously from all of the points in the scene. Alongside key sensor technology and system components, ON Semiconductor offers wide-ranging LiDAR design support materials.
Evaluation/Development Tools
This product allows users to quickly and easily set up an evaluation of the ArrayRDM-0112A20-QFN 1x12 element silicon photomultiplier (SiPM) array.

The Direct Time of Flight (dToF) SiPM LiDAR Platform is a single point range finder development kit for cost-optimized industrial and commercial applications.

Products
The Silicon Photomultiplier (SiPM) is a high gain, single photon-sensitive sensor used for detection of visible to NIR wavelengths.

The RB-Series is a family of NIR-enhanced Silicon Photomultipliers (SiPM) for LiDAR and ranging applications using near-infrared illumination such as 905nm and 940nm.

Within the Internet of Things (IoT), there are an increasing number of ranging and sensing applications looking to benefit from low-power, high performance SiPM technology.

Technical Documents
This white paper is intended to assist in the development of SiPM (Silicon Photomultiplier) based LiDAR (Light Detection and Ranging) systems. The following sections contain information on the design and implementation of a direct ToF (Time-of-Flight) rangefinder, in terms of the laser, timing and optical parameters and detailed analysis of key aspects that must be considered when integrating SiPMs in such systems.

These sensors are now at the forefront of the most innovative developments for LiDAR applications in ADAS (Advanced Driver Assistance Systems) and autonomous vehicles.

Depth sensing with precise measurements is a requirement for many applications in today'smarkets, including industrial, consumer, and automotive.

The Silicon Photomultiplier (SiPM) is a low-light sensor that has performance characteristics comparable to a conventional PMT with the practical advantages of a solid-state sensor. The SiPM is well suited to a variety of applications including LiDAR, medical imaging, radiation detection and biosciences.

The SiPM consists of an array of microcells. Each microcell consists of a Single Photon Avalanche Diode (SPAD) and a quench resistor. ON Semiconductor SiPMs have 3 terminals; cathode, anode and fast output.

Media Resources
Silicon Photomultipliers (SiPM) for Automotive and Industrial LiDAR Applications
Featuring high performance and high reliability, and with an expanding sensor portfolio, ON Semiconductor provides the best sensor solutions for the next generation of LiDAR.
Which Wavelength Will Prevail for Automotive LiDAR The Great Debate
Which wavelength will prevail for Automotive LiDAR?
Developing a Direct Time of Flight dToF LiDAR Range Finder
Range finding using Direct Time of Flight (dToF) LiDAR delivers on a critical need for a number of industrial applications requiring millimetre range accuracy including robotics, mapping and autonomous navigation. For many manufacturers, developing such a system can be incredibly challenging.The SiPM dToF LiDAR Platform developed by ON Semiconductor provides a complete solution for low cost, single point LiDAR that OEMs can adapt and take into production to create industrial range finding applications.
Developing a Direct Time of Flight dToF LiDAR Range Finder
This video provides an introduction and demonstration using the SiPM dToF LiDAR Platform software GUI. Using dToF LiDAR for range finding benefits several industrial applications requiring millimeter range accuracy, including robotics, mapping, and autonomous navigation.
Wade Appelman Autosens Interview
Learn from Wade Appelman for how ON Semiconductor is preparing for Autosens.
Gen3 SIPM LiDAR Demonstrator System Outdoor Testing
Here we show our Gen 3 Scanning LiDAR Demonstrator in a live outdoor test. The demonstrator has an 80 degree x 5 degree FoV, RA-Series 1 x 16 SiPM Arr...
Gen3 SiPM LiDAR Demonstrator System Indoor Testing
In this video we show a SensL 1x16 C-Series in an 80 x 5 degree coaxial scanning LiDAR demonstrator. Various use cases are shown with low and high refl...
SensL Solid State LiDAR Design Considerations
Learn how silicon photomultipliers (SiPM) can be used in solid state LiDAR for ADAS and autonomous vehicles. We explain core LiDAR concepts and show...