AM306245R1DBGEVB: Daughter Board I²C Stepper Driver NQFP Evaluation Board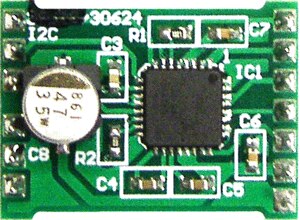 The AM306245R1DBGEVB is a form factor daughter board providing a complete solution driving bipolar stepper motors. In conjunction with the evaluation kit AMIS3062XGEVK it forms an I²C based solution turning high level commands from an I²C master in well defined motions. The design can be programmed to detect and act on mechanical blocking of the rotor. It also incorporates the lowest bill of materials, small board size and perfect matched thermal resistance allowing driving 800 mA at elevated ambient temperature.

Note: This board must be used with the AMIS3062XGEVK Industrial Stepper Motor Driver Kit.
特性和应用
特性

Low bill of materials
Small form factor (25mm x 18mm)

Plug and Play in combination with AMIS3062XGEVK
I²C interface
Microstepping (1/2, 1/4, 1/8, 1/16)
Peak current of 800mA
8V-29V supply voltage
Automotive compliant
Full diagnostics and status information
Position controller
Configurable speeds, acceleration and deceleration
Programmable hold and run current

应用

Flap control in HVAC systems
Headlamp Positioning systems
Pan - tilt - zoom function in Surveillance Camera
Mechatronic modules
X-Y-Z tables
Printers
Industrial robots
Pick-and-place machines
Dose pumps
Event lighting
Your request has been submitted for approval.
Please allow 2-5 business days for a response.
You will receive an email when your request is approved.
Request for this document already exists and is waiting for approval.