ARRAYRDM-0112A20-GEVB: Evaluation board for the ArrayRDM-0112A20-QFN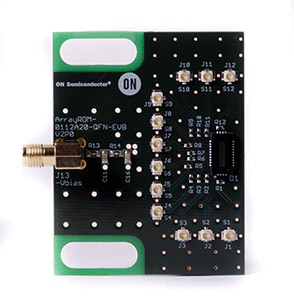 This product allows users to quickly and easily set up an evaluation of the ArrayRDM-0112A20-QFN 1x12 element silicon photomultiplier (SiPM) array.

The ArrayRDM-0112A20-GEVB evaluation board schematic is available in the linked document and consists of:
ArrayRDM-0112A20-QFN SiPM array
12 U.FL connectors for access to each pixel cathode for signal readout
An SMA connector for applying the bias to the common anode
Bias filtering circuit
Decoupling capacitors (12 x 10 nF and 4 x 100 nF decoupling capacitors from anode to ground not shown)
Note that a negative bias supply should be suppled via the SMA connector (J13) and the U.FL connectors (J1 to J12) should be 50Ω terminated.
Your request has been submitted for approval.
Please allow 2-5 business days for a response.
You will receive an email when your request is approved.
Request for this document already exists and is waiting for approval.