FEBFL77905-L83L08A-GEVB: 8W AC LED Driver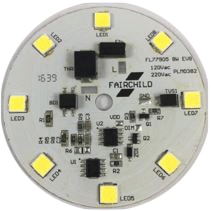 The FEBFL77905-L83L08A-GEVB is a direct AC line LED driver with a minimal number of external RC passive components. In normal configuration, one resistor is to adjust LED power, and one capacitor is to provide a stable voltage to an internal biasing shunt regulator.

The FEBFL77905-L83L08A-GEVB provides phase-cut dimming with wide dimming range, smooth dimming control and good dimmer compatibility. It achieves the high efficiency with high PF and low THD which makes the FEBFL77905-L83L08A-GEVB suitable for high-efficiency LED lighting systems. The FEBFL77905-L83L08A-GEVB has a dedicated DIM pin which can be used with analog or digital PWM dimming.

High wattage design of the FEBFL77905-L83L08A-GEVB can be implemented with multiple IC embedded in parallel for street lighting and down lighting applications.
特性和应用
特性

Power Scalability with Multiple Driver ICs
Flexible LED Forward Voltage Configuration
SOP 8LD Package
Low Harmonic Content (THD under 20% in normal configuration)
Adjustable LED Power with an External Current Sense Resistor
Rheostat Dimmable
High Power Factor (above 0.98 in normal configuration)
Analog/Digital PWM Dimming Function
TRIAC Dimmable (Leading/Trailing Edge)
Four Integrated High-Voltage LED Constant Current Sinks of up to 75 mA (RMS) Capability
The simplest Direct AC LED Driver with Only Two External RC Passive Component
Wide AC Input Range: 90~305 VAC
Over-Temperature Protection (OTP)
Your request has been submitted for approval.
Please allow 2-5 business days for a response.
You will receive an email when your request is approved.
Request for this document already exists and is waiting for approval.