LV8414CSGEVK: Quad H-Bridge Micro Step Motor Driver with I2C Interface Evaluation Board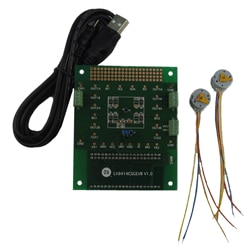 The LV8414CSGEVK Evaluation Board is designed to quickly and efficiently evaluate the LV8414CS, which is a motor driver that is available for the PWM constant-current control micro step drive of dual stepper motor. Miniaturization using the wafer level package (WLP) makes the IC ideally suited for driving the stepping motors used to control the lenses in digital still cameras, cell phone camera modules and other such devices.
Your request has been submitted for approval.
Please allow 2-5 business days for a response.
You will receive an email when your request is approved.
Request for this document already exists and is waiting for approval.