LV8740VGEVB: 2-Channel H-Bridge Driver IC Evaluation Board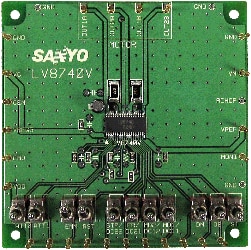 The LV8740V is a 2-channel H-bridge driver IC that can switch a stepping motor driver, which is capable of micro-step drive and supports Full-step, Half-step(full torque), Half-step, and Quarter-step resolution, and two channels of a brushed motor driver, which supports forward, reverse, brake, and standby of a motor.
特性和应用
特性

Single-channel PWM current control stepping motor driver (selectable with DC motor driver channel 2) incorporated
BiCDMOS process IC
Micro step mode can be set to Full-step, Half-step (full torque), Half-step, or Quarter-step mode
Excitation step proceeds only by step signal input
Motor current selectable in four steps
Output short-circuit protection circuit (selectable from latch-type or auto reset-type) incorporated
Unusual condition warning output pins
Built-in thermal shutdown circuit
No control power supply required
评估/开发工具信息
| 产品 | 状况 | Compliance | 简短说明 | 所用产品 | 行动 |
| --- | --- | --- | --- | --- | --- |
| LV8740VGEVB | Consult Sales Office | | 2-Channel H-Bridge Driver IC Evaluation Board | LV8740V-TLM-E | |
Your request has been submitted for approval.
Please allow 2-5 business days for a response.
You will receive an email when your request is approved.
Request for this document already exists and is waiting for approval.