NB4N855SMEVB: Translator Evaluation Board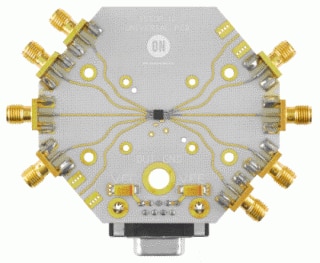 The NB4N855SMEVB has been developed as a convenience for the customers interested in performing their own device engineering assessment. This evaluation board provides a high bandwidth 50 ohm controlled impedance environment. The NB4N855SMEVB Manual contains appropriate lab setup, assembly instructions and bill of materials.
特性和应用
特性

Guaranteed Input Clock Frequency up to 1.0 GHz
Guaranteed Input Data Rate up to 1.5 Gb/s
490 ps Maximum Propagation Delay
1.0 ps Maximum RMS Jitter
180 ps Maximum Rise/Fall Times
Single Power Supply; VCC = 3.3 V 10%
Temperature Compensated TIA/EIA-644 Compliant LVDS Outputs
GND + 50 mV to VCC - 50 mV VCMR Range
Your request has been submitted for approval.
Please allow 2-5 business days for a response.
You will receive an email when your request is approved.
Request for this document already exists and is waiting for approval.