NCL30073LED2GEVB: NCL30073LED2GEVB evaluation board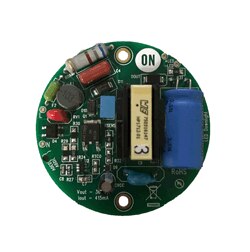 The NCL30073 is a highly integrated PWM controller capable of delivering a rugged and high performance LED converter in a tiny TSOP−6 package. With a supply range up to 24 V, the controller hosts a 65 kHz switching circuitry operated in peak current mode control. When the voltage on FB pin decreases, the controller enters skip cycle while limiting the peak current. Over Power Protection (OPP) is a difficult exercise especially when no−load standby requirements drive the converter specifications. The ON proprietary integrated OPP lets you harness the maximum delivered power without affecting your standby performance simply via two external resistors. An Over Voltage Protection is also combined on the same pin but also on the VCC line. They offer an efficient protection in case of adverse open loop operation. Finally, a timer−based short−circuit protection offers the best protection scheme, letting you precisely select the protection trip point without caring of a loose coupling between the auxiliary and the power windings.
Your request has been submitted for approval.
Please allow 2-5 business days for a response.
You will receive an email when your request is approved.
Request for this document already exists and is waiting for approval.