NCP1340UHDGEVB: High-Voltage, Quasi-Resonant Controller Featuring Valley Lock-Out Switching Evaluation Board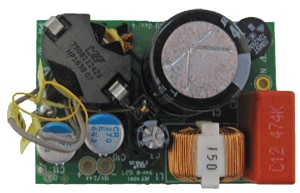 The NCP1340UHDGEVB Evaluation Board is designed to effectively evaluate the NCP1340, which is a highly integrated quasi−resonant flyback controller suitable for designing high−performance off−line power converters. With an integrated active X2 capacitor discharge feature, the NCP1340 can enable no−load power consumption below 30 mW. The quasi−resonant current−mode flyback stage features a proprietary valley−lockout circuitry, ensuring stable valley switching. This system works down to the 6th valley and transitions to a frequency foldback mode to reduce switching losses. As the load decreases further, the NCP1340 enters quiet−skip mode to manage the power delivery. To help ensure converter ruggedness, the NCP1340 implements several key protective features such as internal brownout detection, a non−dissipative Over Power Protection (OPP) for constant maximum output power regardless of input voltage, a latched over voltage and NTC−ready over temperature protection through a dedicated pin, and line removal detection to safely discharge the X2 capacitors when the line is removed.
Your request has been submitted for approval.
Please allow 2-5 business days for a response.
You will receive an email when your request is approved.
Request for this document already exists and is waiting for approval.