NCP1568DC48WGEVB: NCP1568 100-400V Input, 48W DC-DC Evaluation board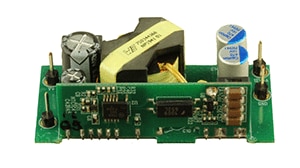 The NCP1568DC48WGEVB is a 48 W, wide range DC input of 120 V to 400 V, constant voltage power supply intended for Server AUX power and other DC input applications requiring a low profile with high efficiency and high power density. The NCP1568DC48WGEVB uses an Active Clamp Flyback (ACF) topology utilizing ON Semiconductor NCP1568 ACF controller, NCP51530A half−bridge driver, NCP4306 synchronous rectified controller and secondary NTMFS6B03 synchronous MOSFET to achieve over 94% efficiency at full load.
Your request has been submitted for approval.
Please allow 2-5 business days for a response.
You will receive an email when your request is approved.
Request for this document already exists and is waiting for approval.