NCP3063SMDBCKEVB: Surface Mount Buck Regulator Evaluation Board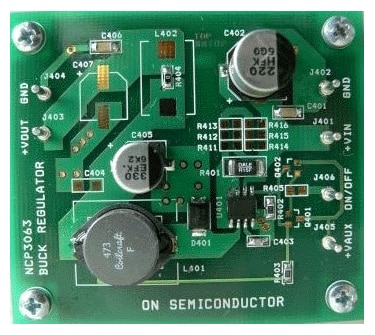 The NCP3063 Series is a performance enhancement to the popular MC33063 and MC34063 monolithic DC-DC converters. These devices consist of an internal temperature compensated reference, comparator, controlled duty cycle oscillator with an active current limit circuit, driver and high output current switch. This controller was specifically designed to be incorporated in step-down, step-up, or voltage inverting applications with a minimum number of external components. The NCP3063 Buck Evaluation Board is a 250 kHz maximum switching frequency board with 3.3V output. The output is capable of loads from 0.2 A to 0.8 A with the efficiency higher than 73% (at 150 kHz). The input voltage for the 3.3V output is 7V to 15V.
特性和应用
特性

250 kHz maximum switching frequency
7V to 15V input voltage
Efficiency greater than 73% at 150 kHz
Your request has been submitted for approval.
Please allow 2-5 business days for a response.
You will receive an email when your request is approved.
Request for this document already exists and is waiting for approval.