NCP3233GEVB: Step Down Converter Evaluation Board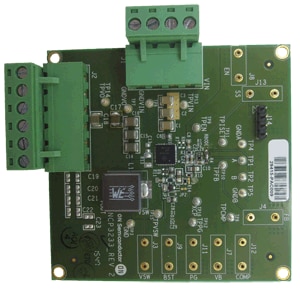 The NCP3233GEVB is a 20A step down converter (with internal MOSFETs) capable of operating from 3V to 16V without the need for an external bias. This fixed frequency converter offers high efficiency and the output can be adjusted to offer a voltage as low as 0.6V. An adjustable current limit allows the device to be used for multiple current levels. The evaluation board is offered is a thermally enhanced 6mm by 6mm QFN package ent, high efficiency voltage-mode synchronous buck converter which operates from 4.5 V to 18 V input and generates output voltages down to 0.6 V at up to 25 A DC load or 30 A instantaneous load.
Your request has been submitted for approval.
Please allow 2-5 business days for a response.
You will receive an email when your request is approved.
Request for this document already exists and is waiting for approval.