NCP3235GEVB: High Current Sync Buck Converter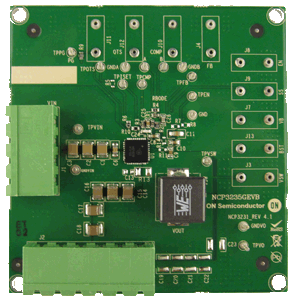 The NCP3235GEVB Evaluation Board is a high current, high efficiency voltage mode synchronous buck converter which operates from 4.5 V to 23 V input and generates output voltages down to 0.6 V at up to 15 A continuous current. It has two operation modes: FCCM and automatic CCM/DCM. In automatic CCM/DCM mode, the controller can switch smoothly between CCM and DCM, where converter runs at reduced switching frequency to achieve much higher efficiency at light load. The NCP3235GEVB Evaluation Board is available in 6 mm x 6 mm QFN−40 pin package.


特性和应用
特性

Wide operating range 4.5 V to 21 V
Thermally enhanced QFN package
550kHz/1.1MHz switching frequency
Ultra-sonic mode
DCM/CCM selectable options
Accurate 0.6 V reference
Adjustable soft start

优势

Allows for use across multiple applications
Higher dissipation with 3 exposed pads
Design flexibility to select higher efficiency or smaller output filter
Keeps capacitors from making audio sounds
Operate in discontinuous mode for higher efficiency at light loads
Adjustable output to set desired voltage as low as 0.6 V
Allows smooth ramp up during power up

应用

FGPA, ASIC, DSP power
Datacom/Networking
Computing/Servers
12 V Point of load
Your request has been submitted for approval.
Please allow 2-5 business days for a response.
You will receive an email when your request is approved.
Request for this document already exists and is waiting for approval.