NCP45560IMNGEVB: Integrated Load Switch with Ultra-Low Ron, 23A, Evaluation Board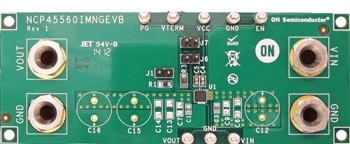 The NCP45560 load switch provides a component and area-reducing solution for efficient power domain switching with inrush current limit via soft-start. In addition to integrated control functionality with ultra low on-resistance, this device offers system safeguards and monitoring via fault protection and power good signaling. This cost effective solution is ideal for power management and hot-swap applications requiring low power consumption in a small footprint.
特性和应用
特性

Advanced Controller with Charge Pump
Integrated N-Channel MOSFET
Soft-Start via Slew Rate Control (Adjustable)
Input Voltage Range 0.5 V to 13.5 V (18V Tolerant)
Low Standby Current
Quick Output Discharge Function (Adjustable)
Power Good Signaling
Fault Protection: Over Temperature
Fault Protection: Under Voltage Lockout
Fault Protection: Short-Circuit Protection
Your request has been submitted for approval.
Please allow 2-5 business days for a response.
You will receive an email when your request is approved.
Request for this document already exists and is waiting for approval.