NCP81239GEVB: NCP81239 USB Power Delivery 4-Switch Buck Boost Controller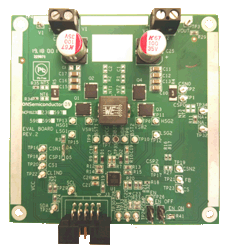 The NCP81239GEVB evaluation board is designed to quickly test the NCP81239, which is a synchronous buck boost controller that is optimized for USB Power Delivery (PD) applications. It converts battery voltage or adapter voltage into power supply rails required in consumer devices such as notebook, tablet, and desktop systems that using USB PD standard and C−Type cables. NCP81239 is designed for applications requiring dynamically controlled slew rate limited output voltage that require either voltage higher or lower than the input voltage. The NCP81239 drives 4 NMOSFET switches, allowing it to buck or boost. The NCP81239 is fully compliant to the USB Power Delivery Specification when used in conjunction with a USB PD or C−Type Interface Controller.
Your request has been submitted for approval.
Please allow 2-5 business days for a response.
You will receive an email when your request is approved.
Request for this document already exists and is waiting for approval.