NCS214RMUTAGEVB: Current sense amplifier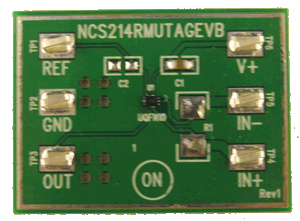 Customer evaluation board for the NCS21x, NCS21xR, NCS199Ax, and NCS199AxR series of current sense amplifiers. This easy to use, straightforward customer evaluation board allows customers to quickly observe the performance and measure key parameters. The PCB comes populated with the DUT, six test points, and one 0.1 µF cap for C1. The R1 resistor is left unpopulated so that the customer can connect either two voltage potentials at the inputs, or their own custom shunt resistor style and value for quick prototyping. The part is linked to the EVB webpage.
Your request has been submitted for approval.
Please allow 2-5 business days for a response.
You will receive an email when your request is approved.
Request for this document already exists and is waiting for approval.