NIS5021MT1GEVB: +12 Volt Electronic Fuse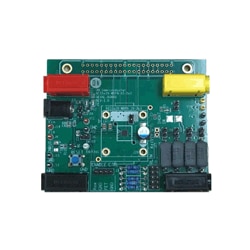 The NIS5021MT1GEVB Evaluation Board showcases a cost effective, resettable fuse which can greatly enhance the reliability of a hard drive or other circuit from both catastrophic and shutdown failures. The eFuse is designed to buffer the load device from excessive input voltage which can damage sensitive circuits. It includes an overvoltage clamp circuit that limits the output voltage during transients but does not shut the unit down, thereby allowing the load circuit to continue its operation. The eFuse also includes an internal Undervoltage Lockout Circuit as well as an Internal Charge Pump. The NIS5021MT1EVB evaluation board has many features which make it simple to observe the functionality and performance of NIS5x2x line of eFuses including multiple connectors available for all eFuse pins (VCC, GND, SRC, enable, ILIM, dv/dt), input and output capacitors, a pushbutton switch and a MOSFET to connect the enable pin to GND or float as needed, green and yellow LEDs to indicate whether the eFuse enable pin voltage is high (device enabled)/low (device disabled)/mid (thermal shutdown), 5 current limit resistor options available directly on the board (20, 25, 30, 35, 40 Ω), 4 load resistor options (200 Ω each) on the board, a jumper to short circuit the load, kelvin or direct sensing options via jumpers between pin 6 and 7 for NIS5x2x.
特性和应用
特性

14 mΩ, 24 mΩ & 44 mΩ Typical RDSON Options
Tristate Enable
Overcurrent Protection
Thermally Protected
Integrated Soft-Start Circuit
Fast Response Overvoltage Clamp Circuit

应用

Servers
Hard Drives
Solid State Drives
Internal Charge Pump
Your request has been submitted for approval.
Please allow 2-5 business days for a response.
You will receive an email when your request is approved.
Request for this document already exists and is waiting for approval.