NVG800A75L4DSC-EVK: VE-Trac Dual EZ Kit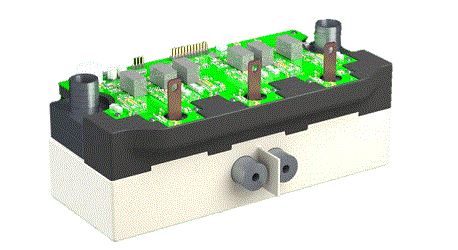 The VE-TracTM Dual Evaluation Kit consists of three VE-Trac Dual power modules (NVG800A75L4DSC) mounted on dual side cooling heatsink, with a 6-ch Gate driver board, DC Link capacitor and external hall-effect current sense feedback for motor control. The kit does not include a PWM controller. The evaluation kit allows the customers to evaluate VE-Trac Dual power module performance in the early stage of inverter development. The kit can be used as a double pulse tester to measure key switching parameters or used as a 3-ph inverter for motor control.
特性和应用
特性

Inverter evaluation Hardware kit for EV/HEV Traction Inverter applications (up to 150kW)
VE-Trac Dual NVG800A75L4DSC with 800A, 750V Field stop 4 IGBT/Diode chipset.
Automotive Isolated high current and high efficiency IGBT gate driver with internal galvanic isolation, NCD57000.
Implementation of Faster and simpler OCP enabled by On-Chip Current Sensing feature in the power modules.
Implementation of faster and closer to true Tvj OTP with integrated to On-Chip Temperature Sensing feature in the power modules.
Custom designed dual side cooler offers low pressure drop with excellent thermal performance.
Custom Film DC Link capacitor rated up to 500VDC, 500 uF.
技术文档
| | | | |
| --- | --- | --- | --- |
| 类型 | 文档标题 | 文档编号/大小 | 修订号 |
| Eval Board: Manual | VE-Trac™ Dual EZ Kit Quickstart Guide | EVBUM2704/D - 1689 KB | 1 |
| Video | VE-Trac Innovative Traction Inverter Solution | WVD17402/D | |
| Video | Integrate Inverter Systems with the VE Trac Dual | WVD17470/D | |
Your request has been submitted for approval.
Please allow 2-5 business days for a response.
You will receive an email when your request is approved.
Request for this document already exists and is waiting for approval.