STR-CURRENT-SENSE-GEVB: Strata Enabled Current Sense Evaluation Kit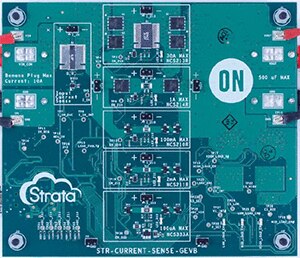 STR-CURRENT-SENSE-GEVB provides an easy to use evaluation kit for the NCS210R, NCS211R, NCS213R, NCS214R current sense amplifiers, and NCS333A in current sense configuration for 0 - 26V and 0 - 30A application. Through Strata Developer Studio, the user can access telemetry, such as current sense readings for each current sense amplifier, interrupt statuses for each programmable protection feature, and a status list for error and warning messages. It also offers controls for enables, protection settings, and on-board load settings, in addition to access to datasheets, BOM, schematic, and other collateral. See the Strata webpage at www.onsemi.com/strata for more details!
特性和应用
特性

5 current reading options ranging from 0-30A

0-100

µ

A
0-2mA
0-100mA
0-1A
0-30A

Vin Range from 0.1V to 26V
Programmable on-board load up to 10A
Programmable OCP and OVP settings

应用

Current Sensing (High side)
Power Management
Battery Management
Your request has been submitted for approval.
Please allow 2-5 business days for a response.
You will receive an email when your request is approved.
Request for this document already exists and is waiting for approval.