STR-LV8548MC-GEVK: Strata Enabled LV8548MC-AH 2-Channel H-Bridge Motor Driver Evaluation Kit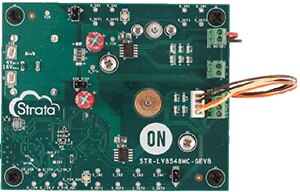 The STR-LV8548MC-GEVK utilizes two LV8548MC chips to drive a pair of DC motors (only 1 included in kit) and a stepper motor (included in kit). The LV8548MC is a 2-channel low saturation voltage forward/reverse motor driver IC. It is optimal for motor drive in 12V system products and can drive either two DC motors, one DC motor using parallel connection, or it can drive a stepping motor in Full-step and Half-step. With Strata the user can evaluate and control the DC brushed motor input telemetry, variable PWM frequency, direction, PWM mode, duty ratio, and software OCP with enable/disable, in addition to the stepper motor input telemetry, full and half step excitation, direction, step angle, motor speed, run duration, and software OCP with enable/disable. See the Strata webpage at www.onsemi.com/strata for more details!
特性和应用
特性

Input Operating Voltage: 4V to 16V
Max Input Voltage: 20V
Max Output Current: 1A
Standby Current Consumption: 0A
Integrated Brake

应用

In-home Appliances
Consumer Electronics
Industrial
Computing
Point of Sale
Your request has been submitted for approval.
Please allow 2-5 business days for a response.
You will receive an email when your request is approved.
Request for this document already exists and is waiting for approval.