STR-SMARTLIBGAUGE-GEVK: LC709204F Smart LiB Gauge Automatic Support Kit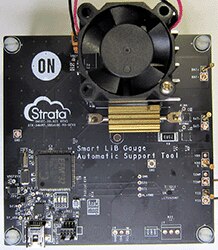 This kit measures the cell voltage curve for a Li-ion/polymer battery using the LC709204F Smart LiB Gauge and on-board programmable load. The cell voltage curve provides optimum battery parameters for Smart LiB Gauge. Within the Strata Developer Studio™, the user can measure and control battery temperature, over current, over and under battery voltage/temperature, voltage graphs and much more. Users can use the GUI to simulate RSOC using the cell voltage curve and optimum battery parameters. See the Strata webpage at www.onsemi.com/strata for more details!
特性和应用
特性

LC709204F from the Smart LiB Gauge family measures cell voltage and cell temperature

Voltage measurement accuracy is ±7.5 mV

Built-in safety mechanism causes automatic measurement to cease when an unexpected condition is occurred

No battery is detected
Excessively high voltage/current/temperature

An on-board programmable load of up to 1.5 A can be applied when measuring discharging characteristics
The Smart LiB Gauge Automatic Support Tool enables testing of charging and discharging with an external load and charger
Users can simulate RSOC within the GUI, using the cell voltage curve and optimum battery parameters
All measured data and the configuration can be saved into a log file using the Strata Developer Studio for the Gauge Simulator

应用

Wearables and IoT devices
Smartphones and PDA devices
Digital cameras
Portable Game Players
USB-related devices
Your request has been submitted for approval.
Please allow 2-5 business days for a response.
You will receive an email when your request is approved.
Request for this document already exists and is waiting for approval.