STR-USBC-4PORT-200W-EVK: Strata Enabled USB AC-DC 4-Port 200W Source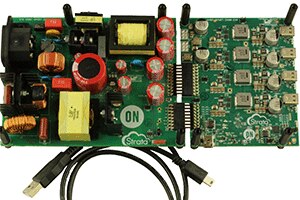 The 4-Port USB-PD Source showcases ON Semiconductor's broad portfolio of USB-PD power solutions, including the FUSB307 PD Port Controller, the FUSB252 HV Protection Switch, and the NCP81231 buck controller. The universal 200W AC/DC supply uses the NCP1399 LLC controller, the NCP1615 PFC, and NCP4305 secondary SR controller providing a highly efficient front-end solution. All ports are 100W capable with a total max system power limited to 200W using our First Come First Served power management algorithm. The Strata software provides powerful controls to test power profile configurations such as optional "assured" port 1 power, experiment with various fault and foldback features, and monitor system telemetry while charging various load devices. Design collateral such as schematics, PCB layout, test reports, etc. are supplied in the same Strata interface to ease evaluation. See the Strata webpage at www.onsemi.com/strata for more details!
特性和应用
特性

Four USB Type-C Outputs
Supports USB Power Delivery up to 100W Per Port
Power Management Algorithm to Intelligently Deliver 200W Across Four Ports
Default PDO's = 5V, 7V,8V, 9V, 12V, 15V, 20V at 5A
Input and Output Power Monitoring
Thermal Protection, Overcurrent Protection
NCV81231Buck + FUSB307 Port Controller

应用

Consumer Electronics
Computing
Point of Sale
USB Type-PD Systems
评估/开发工具信息
产品
状况
Compliance
简短说明
所用产品
行动
STR-USBC-4PORT-200W-EVK
Active
Strata Enabled USB AC-DC 4-Port 200W Source
FUSB252UMX , FUSB307BMPX ,
N34TS04MT3ETG , NCD9830DBR2G ,
NCP1615CDR2G , NCP705MT33TCG ,
NCP81231MNTXG , NCP81239MNTXG ,
NCV213RSQT2G , NCV214RSQT2G ,
NCV890200PDR2G
Your request has been submitted for approval.
Please allow 2-5 business days for a response.
You will receive an email when your request is approved.
Request for this document already exists and is waiting for approval.