The document you are trying to download is gated.
Log into MyON to proceed.
NCV8669: LDO Regulator, 150 mA, Low Dropout, Low Iq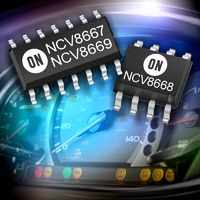 The NCV8669 is 150 mA LDO regulator with integrated reset and early warning functions dedicated for microprocessor applications. Its robustness allows NCV8669 to be used in severe automotive environments. The NCV8669 utilizes precise 1 MΩ internal resistor divider for Early Warning function which significantly reduces overall application quiescent current and number of external components. Very low quiescent current as low as 42 µA typical for NCV8669 makes it suitable for applications permanently connected to battery requiring very low quiescent current with or without load. The NCV8669 contains protection functions as current limit and thermal shutdown.
特性
优势

Very Low Quiescent Current: Typ 42 µA (Including Internal Early Warning Resistor Divider Current)

Early Warning Threshold Accuracy:
+/-10% Over Temperature Range
(Using RSI_ext External Resistor with +/-1% 100 ppm/°C)

Precise battery voltage monitoring

Microprocessor Compatible Control Functions:
Reset with Adjustable Poweron Delay
Early Warning

Microprocessor power management feature, design flexibility

Integrated Protection Features:
Current Limitation
Thermal Shutdown

AEC Q100 qualified, PPAP capable
应用
终端产品

Body Control Module
Instruments and Clusters
Occupant Protection and Comfort
Powertrain
外形
NCV866952D250R2G
Lifetime

AEC Qualified
PPAP Capable
Pb-free
Halide free

LDO Regulator, 150 mA, Low Dropout, Low Iq, 5.0V
SOIC-14
751A-03
1
260
Tape and Reel
2500
$1.0528
| | | |
| --- | --- | --- |
| 市场订货至交货的时间(周) | : | Contact Factory |
新产品
NCV8187
:
1.2 A LDO Regulator
Low Iq of 30 µA typical over full temperature range
High PSRR of 85 dB at 1 kHz for power stability
Low noise of 9 µV(RMS)
NCV8730
:
150 mA LDO Regulator
Low quiescent current of 1 µA typical, and shutdown current of 100 nA typical
Wide operating input voltage range of 2.7 to 38 V
Low dropout of 290 mV typical @ 150 mA, 3.3 V