LV8968BBUWR2G: Multi-purpose BLDC Pre-driver, For Automotive
The LV8968BB is a 3−phase BLDC/PMSM pre−driver with integrated BEMF (Back ElectroMotive Force) sensing and logic level FET compatibility. The wide operating voltage range and AEC−Q100 qualification make this device ideal for automotive applications. Six gate drivers provide 400 mA (typ) gate current to external power bridges allowing use of low−resistance power FETs as well as logic level FETs. All FETs are protected against overcurrent, short−circuit, over−temperature and gate undervoltage. A multitude of protection and monitoring features make this device suitable for ISO26262 applications. Three independent low−side source pins allow multiple shunt measurement.
The device also includes a programmable linear regulator, a fast current−sense amplifier and a window watchdog for microcontroller support. The SPI interface allows for real time parameter setup and diagnostics. Critical system parameters can be programmed into non−volatile OTP memory.
Junction temperature tolerance up to 175°C and control via wide level WAKE and PWM signals make the LV8968BB an ideal motor pre−driver for automotive applications such as engine cooling fans, fuel, oil, and hydraulic pumps.
特性

Full Drive Power from 8 V to 28 V Supply Voltage with Transient Tolerance from 4.5 V to 40 V

Extended Voltage Range from 6 V to 33 V Using Logic−level Mode

Up to 25 kHz Motor PWM with Individual Six Gate Control or Drive−3 Mode with Integrated Programmable Dead−Time

5 V / 3.3 V Linear Regulator for External Loads up to 50 mA

Extensive System Protection Features Including:
♦ Drain−Source Short Detection for External FET
♦ Overcurrent Shutoff
♦ Low Gate Voltage Warning
♦ Over−temperature Warning and Shutoff
♦ Over / Under Voltage Protection

SPI Interface for Parameter Setup and Diagnostic Access, Dynamic Access to Dead−Time, Amplifier Gain, and Short Circuit Levels

Non−Volatile (OTP) Memory for Storing Critical System Parameters

Wide Voltage Enable Line and PWM Interface

Integrated Window Watchdog Timer Function

AEC−Q100 Qualified and PPAP Capable

Thermally Efficient Exposed Die 48 Pin SQFP Package for Transient Operation Up to 175°C
应用
Automotive Fuel, Oil, Water or Hydraulic Pumps
Automotive Actuators
Automotive HVAC and Cooling Fans
Battery Operated Hand Power Tools
White Goods
评估/开发工具信息
| 产品 | 状况 | Compliance | 简短说明 | 行动 |
| --- | --- | --- | --- | --- |
| LV8968BBGEVB | Active | | Evaluation board for LV8968B | |
| | | | |
| --- | --- | --- | --- |
| | | | Interactive Block Diagram |
Product
Description
Pricing ($/Unit)
Compliance
Status
Phase
VM Min (V)
VM Max (V)
VCC Min (V)
VCC Max (V)
IO Max (A)
IO Peak Max (A)
Control Type
Package Type
LV8968BBUWR2G
$5.0159
Active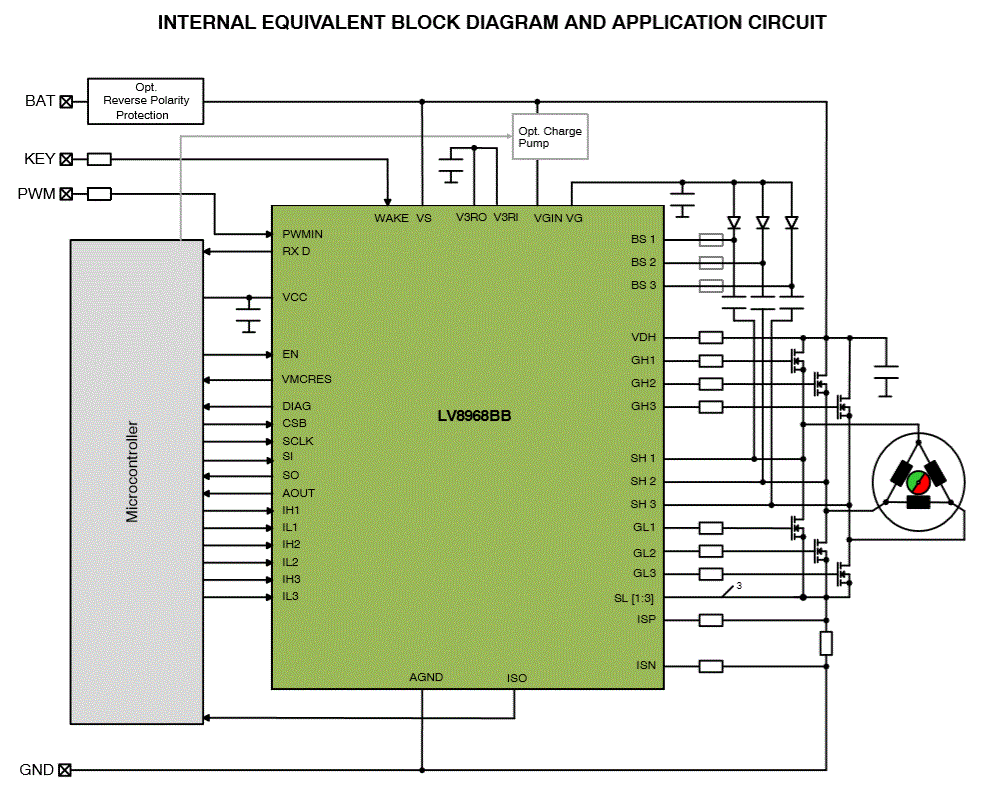 Application
Diagram - Block