The document you are trying to download is gated.
Log into MyON to proceed.
EZAIRO 7150 SL: 音频处理器,用于助听器的无线功能 DSP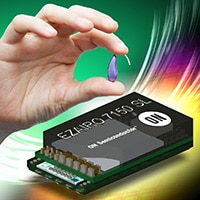 Ezairo® 7150 SL 可实现助听器中的无线联接,是一款可开放编程的、基于 DSP 的混合模块,支持 Bluetooth® 低能耗技术和其他 2.4 GHz 无线协议。 Ezairo 7150 SL 中器件 Ezairo 7100 数字信号处理器 (DSP): 包括一个高精度、四芯体系结构,提供 375 MIPS 而不会影响功耗性能 无线电集成电路: 功能强大的无线收发器,支持蓝牙低能耗技术和专属 2.4 GHz 协议 EA2M: 2 Mb EEPROM 内存,用于存储重要的助听器参数和固件 开发工具 Ezairo 预先配置套件可开放编程评估和开发套件 (EDK) 要访问基于 Ezairo 的开发工具,请联系您的销售代表或授权分销商。
特性

Advanced Wireless Functionality: Supports Stereo Audio Streaming, Control Over Bluetooth Low Energy (CoBLE). Wirelessly control hearing aid features from smartphones, and stream audio from external sources (e.g., smartphones, televisions) through a remote dongle.

Ultra-Low Power Consumption: 1090 µA while running the Ezairo Pre Suite firmware bundle at 10.24 MHz with all algorithms active.

Ultra-Miniature: Integrates Ezairo 7100 DSP, radio IC, 2 Mb EEPROM memory, and necessary passive components into one single hybrid module to minimize overall system size.

Flexible Programmability: Open-programmable DSP-based system can be customized to the specific signal-processing needs of any manufacturer. Modify or add new algorithms or features without making changes to the chip.

Quad-Core Architecture: Industry's most integrated, flexible, and power efficient single-chip solution. Features a CFX DSP, HEAR Configurable Accelerator, ARM® Cortex®-M3 processor, and programmable Filter Engine.

Ultra-High Audio Fidelity: Provides 85 dB system dynamic range with up to 110 input signal dynamic range to preserve a more detailed sound.

Configurable System Clock Speeds: Twelve clocking speeds to maximize computing performance versus power consumption.

Low Audio Delay: Programmable Filter Engine supports 0.044 ms audio delay.
应用
终端产品

Wireless Connectivity
Audio Processing
Stereo Audio Streaming
Control Over Bluetooth Low Energy
评估/开发工具信息
| 产品 | 状况 | Compliance | 简短说明 | 行动 |
| --- | --- | --- | --- | --- |
| 0W705001GEVK | Active, Not Rec | | Ezairo® 7150 SL Hybrid Demonstrator Board | |
外形
E7150-102A49-AG
Active, Not Rec
Audio Processor, Wireless-Enabled DSP for Hearing Aids, System-in-Package (SiP), 250/Tape & Reel
SIP-49
4
240
Tape and Reel
250
| | | |
| --- | --- | --- |
| 市场订货至交货的时间(周) | : | 13 to 16 |
| ON Semiconductor (2020-05-30 00:00) | : | 1,645 |