The document you are trying to download is gated.
Log into MyON to proceed.
NB7V585M: Input Mux - 2:1 Differential, 1.8 V / 2.5 V, Clock / Data Fanout Buffer - 1:6 CML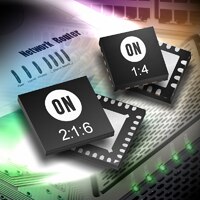 The NB7V585M is a differential 1-to-6 CML clock/data distribution chip featuring a 2:1 Clock/Data input multiplexer with an input select pin. The INx/INxb inputs incorporate internal 50-ohm termination resistors and will accept LVPECL, CML, or LVDS logic levels. The NB7V585M produces six identical output copies of clock or data operating up to 7GHz or 10.7Gb/s, respectively. As such, NB7V585M is ideal for SONET, GigE, Fiber Channel, Backplane and other clock/data distribution applications. The 16mA differential CML output structure provides matching internal 50-ohm source terminations, 400mV output swings when externally terminated with a 50-ohm resistor to VCC and is optimized for low skew and minimal jitter. The NB7V585M is powered with either 1.8V or 2.5V supply and is offered in a low profile 5x5mm 32-pin QFN package.
特性

Maximum Input Data Rate > 10 Gb/s Typical

Data Dependent Jitter < 10 ps

Maximum Input Clock Frequency > 6 GHz Typical

Random Clock Jitter < 0.8 ps RMS, Max

Low Skew 1:6 CML Outputs, 30 ps Max

2:1 MultiLevel Mux Inputs

175 ps Typical Propagation Delay

50 ps Typical Rise and Fall Times

Operating Range: VCC = 1.71 V to 1.89 V

Internal 50-ohm Input Termination Resistors

40C to +85C Ambient Operating Temperature
| 应用 | | 终端产品 |
| --- | --- | --- |
| Clock Distribution: SONET/SDH, Fibre Channel, Gigabit Ethernet | | |
外形
NB7V585MMNR4G
Active
Input Mux - 2:1 Differential, 1.8 V / 2.5 V, Clock / Data Fanout Buffer - 1:6 CML
QFN-32
488AM
1
260
Tape and Reel
1000
Contact Sales Office
| | | |
| --- | --- | --- |
| 市场订货至交货的时间(周) | : | Contact Factory |
| PandS (2020-07-09 00:00) | : | <1K |
Product
Description
Pricing ($/Unit)
Compliance
Status
Input/Output Ratio
Channels
Input Level
Output Level
VCC Typ (V)
fMax Typ (MHz)
tJitter Typ (ps)
tskew(OO) Max (ps)
tpd Typ (ns)
Package Type