The document you are trying to download is gated.
Log into MyON to proceed.
ESD7004: ESD Protection Diode with Low Capacitance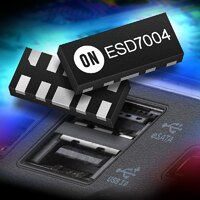 The ESD7004 is designed to protect high speed data lines from ESD. Ultra-low capacitance and low ESD clamping voltage make this device an ideal solution for protecting voltage sensitive high speed data lines. The flow-through style package allows for easy PCB layout and matched trace lengths necessary to maintain consistent impedance between high speed differential lines such as USB 3.0 and HDMI.
特性

Low Capacitance (0.2 pF Typical, I/O to I/O)

Protection for the Following IEC Standards: IEC 61000-4-2 (±15 kV Contact)

UL Flammability Rating of 94 V0
应用
USB 3.0
HDMI
Display Port
MDDI
eSATA
外形
ESD7004MUTAG
Active
ESD Protection Diode with Low Capacitance
UDFN-10
517BB
1
260
Tape and Reel
3000
$0.0728
SZESD7004MUTAG
Active

AEC Qualified
PPAP Capable
Pb-free
Halide free

ESD Protection Diode with Low Capacitance
UDFN-10
517BB
1
260
Tape and Reel
3000
$0.1467
| | | |
| --- | --- | --- |
| 市场订货至交货的时间(周) | : | 8 to 12 |
| FutureElectronics (2020-08-06 00:00) | : | >1K |
Product
Description
Pricing ($/Unit)
Compliance
Status
Interface
Number of Lines
Direction
C Max (pF)
V(BR) Min (V)
VRWM Max (V)
IR Max (µA)
PPK Max (W)
Package Type
ESD7004MUTAG
$0.0728
Active
SZESD7004MUTAG
$0.1467
Active